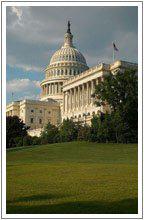 The biodiesel industry is calling on Congress to quickly pass a measure that would renew the biodiesel tax credit. The new legislation, sponsored by Sens. Charles Grassley (R-Iowa) and Maria Cantwell (D-Wash.), and Reps. Kristi Noem (R-S.D.) and Bill Pascrell (D-N.J), includes a key reform restructuring the incentive from a blender's credit to a producer's credit focused on domestic production. It eliminates the existing blender's structure, which is allowing foreign producers take advantage of the incentive. The National Biodiesel Board points out that not only will the new legislation encourage domestic production, it will save about $90 million in tax dollars. NBB wants action on it soon.
"The biodiesel industry cannot grow and support good-paying jobs without some level of predictability on tax policy, and the legislative clock is winding down," said Anne Steckel, NBB's vice president of federal affairs. "This tax incentive has strong bipartisan support, as demonstrated by the bills introduced today. It's good for the economy, it's good for the environment and it's good for consumers. And importantly the reforms included in today's bills will appropriately focus the incentive on U.S. production"
"We want to thank Reps. Noem and Pascrell and Sens. Grassley and Cantwell again for their leadership on this issue," she added. "This bill, when passed into law, will go a long way toward creating biodiesel jobs across the country and reducing our dependence on foreign oil."
Grassley's home state Iowa Biodiesel Board and Iowa Renewable Fuels Association (IRFA) added their encouragement to pass the measure, as well as their thanks to the lawmakers involved.
Grant Kimberley, executive director of the Iowa Biodiesel Board, issued the following statement:
"Finalizing this bill is a huge step forward in reinstating the biodiesel tax credit, which is the lifeblood of this American energy industry. In addition to extending the current $1 per gallon tax credit for biodiesel for 2015 and through 2016, this bill would finally restructure it to a producer's credit – something we have been trying to do for years. This is critical because the current structure allows foreign biodiesel producers to take advantage of the credit if their fuel is blended in the U.S.
"We sincerely thank Sen. Grassley for his leadership in extending this successful energy policy and closing this loophole. Rep. Rod Blum has also been extremely helpful in this effort, and Iowans should be proud that they were willing to step forward and fight for energy policy that is good for Iowa. The federal tax incentive has played a key role in enabling our state's 13 biodiesel plants to keep the doors open, making Iowa the number one biodiesel-producing state and benefiting all levels of our economy."
IRFA Executive Director Monte Shaw issued the following statement regarding the legislation:
"We applaud Senator Grassley and Representative Blum for leading the charge to reinstate the biodiesel tax credit. Ramping up biodiesel production means more high-paying jobs in Iowa and better prices for Iowa's farmers and livestock producers. This legislation will help biodiesel compete against petroleum products that have been subsidized for more than a century. It will also save the taxpayers money by reforming the credit to cover U.S. production and not foreign biodiesel imports. Now, Congress needs to pass this legislation before adjourning for the holidays."
IRFA also said it is welcoming NBB CEO Joe Jobe as the industry keynote address at the 10th Annual Iowa Renewable Fuels Summit on January 19, 2016 in Altoona, Iowa.
"The IRFA is very excited to have National Biodiesel Board's Joe Jobe address the 10th Annual Summit, and provide his astute perspective on biodiesel's role in national energy policy as a very successful, greenhouse gas reducing advanced biofuel," stated IRFA Managing Director Lucy Norton. "With energy policy currently at the forefront of national discussions, the Iowa Renewable Fuels Summit will be a great place to learn the latest and greatest on the future of renewable fuels."
Registration informaton for the free summit is available here.