Africa launched an ambitious Africa Renewable Energy Initiative (AREI) during the Conference of Parties (COP21) taking place in Paris, France. The program's goal is to produce 300 gigawatts (GW) of electricity for the continent by 2030 as a demonstration of Africa's leadership in the UN climate negotiations. AREI is an outcome of African leadership in Workstream II of the Durban Platform including their May 2014 proposal for a global renewable energy support programme.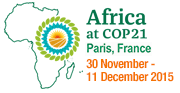 The project aims to help African countries leapfrog towards renewable energy systems that support their low-carbon development strategies while enhancing economic and energy security. The initiative is expected to deliver 10 GW of new and additional electrical installed capacity by 2020 and 300 GW by 2030.
Speaking during the launch of the project at the Africa Pavillion in Paris, Akinwumi Adesina, the President of the African Development Bank (AfDB), one of the major sponsors of the initiative, said the institution has tripled its financing to climate change initiatives.
"We are aware that Africa needs massive financing for climate change mitigation and adaptation efforts. That is why we are dedicating 40 per cent of our resources to such efforts," Adesina said. He regretted that Africa is often referred to as a dark continent because majority of the residents have no access to electricity.
"Africa has 640 million of its people who don't have access to electricity. A total of 7 million Africans have no access to clean energy and majority use charcoal and kerosene. This always leads to deaths. We must stop this," Adesina continued. "The initiative is a game-changer as Africa loses 4 per cent of its GDP due to lack of clean energy. Let us use our abundant sunshine to light our homes and our water to generate clean energy. This investment must bring electricity to our people. "
The AfDB also launched $300 million which will be given as loans for women to engage in smart environmental businesses as a way of empowering them.