A new report finds growth in the use of solar energy has surged 183 percent among America's top companies in the four years. "Solar Means Business 2015," also found 59 percent growth in solar installations since last year. The study, the first in four years, was released by the Solar Energy Industries Association (SEIA).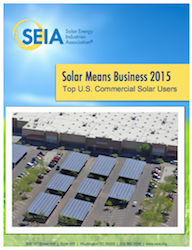 For the fourth year in a row, Walmart ranked No.1 with 142 MW of solar PV capacity at 348 locations. Other top companies recognized for both their amount of solar capacity and number of solar installations include Kohl's, Apple, Macy's, Walgreens, Target, IKEA, Prologis, FedEx, Intel, General Motors, Verizon, Johnson & Johnson, Bed Bath & Beyond, Safeway, Hartz Mountain, Staples, L'Oreal, Kaiser Permanente and Toyota.
"These blue-chip companies have realized investing in solar is a common-sense, cost-effective decision that pays dividends for both the environment and their bottom lines," said SEIA President and CEO Rhone Resch. "Not only are they helping to create thousands of American jobs in solar, the nearly 1,700 systems currently in operation are generating enough clean, reliable electricity to offset nearly 890,000 metric tons of harmful carbon emissions a year."
Combined, America's top corporate solar users installed 1,686 systems totaling 907 MW of solar. Representing a "Who's Who" of the corporate world according to SEIA. These companies, says the association, are playing an increasingly important role in the development, expansion and promotion of solar nationwide, while also reducing their operating expenses, benefiting customers and shareholders alike.
The report notes that growth in corporate solar adoption is no longer limited to traditional solar markets, but that "solar is a smart business decision wherever your business may be."