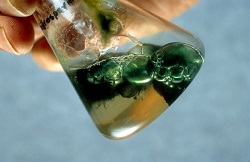 You've heard about pounding swords into plowshares. Well, how about making bombs into biodiesel? This article from the U.S. Army says that's the idea behind Army researchers, in concert with biofuel maker Algenol Biotech LLC, using algae to turn the propellant in artillery rounds into biodiesel.
"Because the algae-based process uses photosynthesis, it actually consumes carbon dioxide," said Pamela Sheehan, project officer and principle investigator for the M6 recycling research program at the Armament Research, Development and Engineering Center, or ARDEC, at Picatinny Arsenal.
"So not only is the process not carbon-dioxide generating, it goes beyond being carbon neutral to a carbon-dioxide consumer," she said. Eliminating the release of carbon dioxide into the atmosphere during destruction of propellant helps the Army reduce its carbon footprint and take action against climate change.
When circumstances allow it, the military recycles metal parts during the demilitarization processes.
However, the algae-based demilitarization method would allow the Army to recycle nitrogen, which is present in all propellants and explosives.
"We've conceptualized a process to develop a capability to extract and conserve that nitrogen using a hydrolysis process," Sheehan said. Hydrolysis is a chemical process of decomposition.
"The nitrogen then is in the form of nitrite and nitrate, and we want to use that nitrogen to grow algae in a reactor. The algae utilizing the nitrogen will grow, and as they grow will produce ethanol, and an oil product that can later be refined into diesel fuel," she said.
Officials also point out that the process will provide a source of revenue from what is usually a costly, waste-stream process.