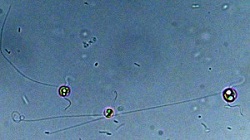 Researchers at the University of Washington have sequenced the genome for a type of algae and found important information for biodiesel production. This news release from the school says the scientists sequenced the complete genetic makeup of the important and plentiful algae, known as haptophytes.
"Haptophytes are really important in carbon dioxide management and they form a critical link in the aquatic foodchain," said senior author and UW biology professor Rose Ann Cattolico. "This new genome shows us so much about this group."
The haptophyte Cattolico and her team studied is Chrysochromulina tobin, and it thrives in oceans across the globe. The researchers spent years on a series of experiments to sequence all of Chrysochromulina's genes and understand how this creature turns different genes on and off throughout the day. In the process, they discovered that Chrysochromulina would make an ideal subject for investigating how algae make fat, a process important for nutrition, ecology and biofuel production.
"It turns out that their fat content gets high during the day and goes down during the night," said Cattolico. "A very simple pattern, and ideal for follow-up."
She believes that that these extreme changes in fat content — even within the span of a single day — may help ecologists understand when microscopic animals in the water column choose to feast upon these algae. But knowledge of how the algal species regulates its fat stores could also help humans.
"Algae recently became more familiar to the general populace because of biofuel production," said Cattolico. "We needed a simple alga for looking at fat production and fat regulation."
The research was published Sept. 23 in the online, open-access journal PLOS Genetics.