A new study from the Deep Decarbonization Pathways Project (DDPP) details how the U.S. can reduce greenhouse gases (GHGs) in line with the goal of limiting any additional temperature increases due to climate change by 2 degrees Celsius. The two-volume report finds that reductions are technologically feasible and economically affordable.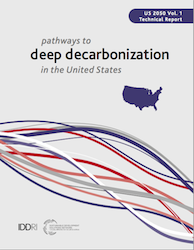 Volume One, "Pathways to Deep Decarbonization in the United States," an update from last year, reviews technology requirements and costs of different options for reducing GHGs by 80 percent below 1990 levels by the year 2050. The analysis, that looks at every piece of energy infrastructure from power plants to water heaters, was conducted by the San Francisco-based consulting firm Energy and Environmental Economics, Inc. (E3), in collaboration with researchers at Lawrence Berkeley National Laboratory and Pacific Northwest National Laboratory.
"This is by far the most rigorous and detailed study of what it will take to achieve a transition to clean energy in the United States," said Dr. Dan Lashof, chief operating officer of NextGen Climate America, one of the sponsors of the research. "It demonstrates that a climate-friendly transformation of our energy system is not only achievable, it would increase our prosperity, protect our environment, and strengthen our national security."
The second volume, "Policy Implications of Deep Decarbonization in the United States," provides a guide for what policy makers at the national, state, and local levels must do to enable a low carbon transition. It describes how businesses and whole regions could benefit in an energy economy where the dominant mode shifts from purchasing fossil fuel, with historically volatile prices, to investment in efficient, low carbon hardware, with very predictable costs.
"I think our work throws down a gauntlet to those who claim that decarbonization of the US energy system is impractical and out of reach," said report lead author Dr. Jim Williams, chief scientist at E3 and director of the DDPP. "The more deeply you look at the energy system, the more optimistic you feel. Arguments that the US can't achieve this technologically or economically don't hold water – they are political arguments dressed in technical clothing."
The reports are a part of a series by the DDPP, an international collaboration of research teams from the world's 16 highest-emitting countries. This year it has issued country-specific strategies for deep decarbonization in Australia, Brazil, Canada, China, France, Germany, India, Indonesia, Italy, Japan, Mexico, Russia, South Africa, South Korea, the United Kingdom, and the United States.