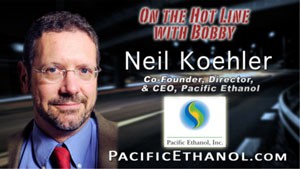 Pacific Ethanol CEO Neil Koehler will be a guest on "Bobby Likis Car Clinic" tomorrow, November 21, at 11:40 am Eastern time.
Koehler will brief Car Clinic listeners and viewers on the actions required to make strides in energy independence, including the importance of Environmental Protection Agency (EPA) finalizing the rule for the renewable volume obligations of the Renewable Fuels Standard (RFS), set for November 30.
"It's my job as consumers' go-to source for truth-based automotive information to deliver the facts to you, so you can make best-of-decisions," said Likis. "Neil Koehler will tell it like it is regarding the RFS."
Pacific Ethanol is the leading producer and marketer of low-carbon renewable fuels in the Western United States. With the addition of four Midwestern ethanol plants in July 2015, Pacific Ethanol more than doubled the scale of its operations, entered new markets, and expanded its mission to be the industry leader in the production and marketing of low carbon renewable fuels.
To view Koehler's interview in its entirety, visit WatchBobbyLive.com on Saturday, November 21, at 11:41a ET.