A push poll was recently released by the American Petroleum Institute (API) that found a majority of votes are concerned about using ethanol in their engines. The poll also found voters are opposed to the Renewable Fuel Standard (RFS), contrary to what many other surveys have found. In response, Renewable Fuels Association (RFA), President and CEO Bob Dinneen called the poll "utterly dishonest" and said the questions are so "biased with prejudicial lead in text" that that the results cannot be considered even remotely credible.
Commenting specifically on the wording of the poll questions, Dinneen said that framing their misplaced narrative about food versus fuel, engine damage, and gasoline price impacts as questions, while blatantly ignoring all the facts to the contrary, assures a predetermined result that adds nothing to the public discourse.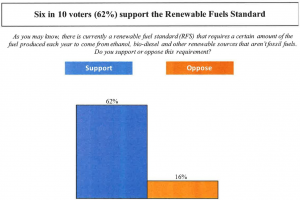 Dinneen noted the RFA has been conducting its own monthly surveys throughout the year to ask respondents their opinions about ethanol and the RFS. He said the RFA surveys, which have been conducted by Morning Consult, have consistently shown strong support among the public for the RFS. November's survey asked 2,001 (twice the number surveyed by API) registered voters for their opinions on biofuels and the RFS. Dinneen pointed out that RFA's questions were straightforward and balanced, as opposed to those posed by API. When asked in the RFA survey whether they supported the RFS, 62 percent of respondents indicated that they supported the RFS, while 16 percent of respondents indicated they opposed the program. In addition the RFA poll found that a majority of voters (52 percent) think the RFS should be expanded.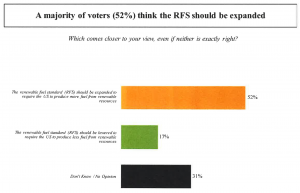 "I would like to say that I am shocked API has stooped to such measures as trying to promote an obvious push poll, containing extremely biased questions, as a credible indication of public sentiment about the RFS and ethanol, but I am not," said Dinneen. "API will do anything and everything in its power to ensure that its monopoly on the marketplace continues. Our data shows when you ask the public fair and balanced questions about the RFS, you see that it clearly supports the ethanol industry. The public wants safe, affordable fuel, and that's what the RFS allows them to have each and every time they head to a fueling station to fill up their engines."
Here are examples of questions asked by the API poll and the RFA survey. Dinneen is calling on readers to judge for themselves:
API poll question: "Over 40% of U.S. corn production is currently used to produce ethanol for gasoline. This significantly diverts corn away from the global food supply. Given that, how concerned are you that using even more corn for ethanol production could increase food prices here in the U.S. and increase hunger among the world's poor?"
RFA survey question: "As you may know there is currently a renewable fuel standard that requires a certain amount of fuel produced each year to come from ethanol, bio-diesel and other renewable resources that aren't fossil fuels. Do you support or oppose this requirement?"
Other credible polls conducted by third party polling organizations have also found broad support for the RFS including polls from National Farmers Union and America's Renewable Future.