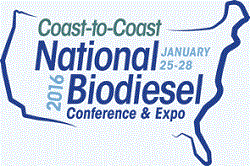 The old saying "knowledge is power" certainly applies to the upcoming National Biodiesel Conference and Expo, Jan. 25-28, 2016, in Tampa. Conference organizers promise expert speakers on forecast markets, explanation of new regulations, and discussions of tax incentives. Among the spotlight sessions: "Anatomy of the RFS Rule: What the New EPA Rule Does and What it Means for Biodiesel."
It's still in flux today, but by conference time we will have the latest Renewable Fuel Standard volumes as well as in-depth analysis about how it may affect you and your business. Our team of experts will review what's in the final rule and look ahead to what it means for biodiesel's future under the program. We'll break down the politics shaping the EPA's decisions and the likelihood of RFS changes moving forward, whether in Congress or under a new Administration.
More information and registration is available here.