According to the latest Clean Energy Jobs report from Environmental Entrepreneurs (E2), there were almost 10,000 new clean energy jobs announced during the third quarter (Q3) this year. The top three states for the quarter were: Utah (2,950 jobs announced), California (1,916) and Colorado (850). Texas, Arizona, Georgia, Maine, Nebraska, Mississippi and North Dakota rounded out the top 10. So far this year, about 30,000 clean energy jobs have been announced.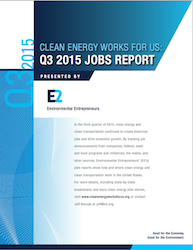 The top clean energy sector was solar with nearly 7,000 jobs at 23 projects in power generation or manufacturing. The wind energy industry came next with approximately 2,500 jobs across 11 projects.
"Clean energy continues to put more Americans to work every day all across our country," said Bob Keefe, E2's executive director. "We can keep that growth going – but only if our state and federal lawmakers take action on the clean energy policies now before them."
Keefe said the report suggests Congress could stimulate even more economic activity in clean energy through the passage of long-term federal tax incentives. These incentives assist in putting clean energy industries along with energy efficiency at a more level playing field with fossil fuel industries.
In addition, Keefe said the report highlights a how states can send a clear market signal to the private sector to increase investments, and create more jobs, by implementing the Clean Power Plan (CPP). The report notes that smart implementation of the Clean Power Plan by states – along with strong "subnational" clean energy policies in states like California – will help the U.S. meet its climate goals and show leadership as nearly 200 countries prepare to convene at the United Nations Conference on Climate Change (COP 21) in Paris next month.
"Here at home, the Clean Power Plan gives us a clear roadmap for creating good clean energy jobs," said RJ Harrington, president and CEO of Sustainable Action Consulting near Denver. "Overseas, it solidifies America's reputation as the global hub of innovative, entrepreneurial clean energy business activity."