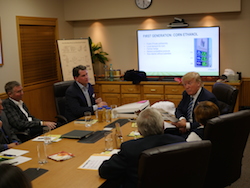 Republican presidential candidate Donald Trump toured the POET Biorefining ethanol plant in Gowrie, Iowa last night to learn more about ethanol production and the role ethanol plays in the success of the Renewable Fuel Standard (RFS). While onsite, he also visited with POET's President James Moe along with America's Renewable Future (ARF) Co-Chairs Lt. Governor Patty Judge and Bill Couser. Earlier this week, ARF released its Mid-term Report Card giving Trump a "Good Rating".
"We want to thank Mr. Trump for his continued support for this industry and for the Renewable Fuel Standard (RFS)," said Judge. "He has shown that he is committed to Iowa's farmers and to American entrepreneurship which has paved the way for making America cleaner, stronger, and more secure through the RFS."
ARF is committed to both educating presidential candidates about the benefits of biofuels and the success of the RFS. In addition, they are publishing candidates' views on these issues so voters who are concerned about energy issues understand the candidates' positions prior to election day. According to ARF, Trump's latest comments and show of support at the POET plant solidifies his standing with ARF and will earn him praise from the organization.
"It's great for the country. I'm with you one hundred percent," Trump said about the RFS to a crowd of POET employees and RFS supporters during his remarks.