Yesterday was a Veterans Day in the U.S., a day where citizens are asked to thank veterans for their service to our country. In conjunction with the celebration, SolarWorld announced the completion of two projects totaling 2.6 MW for the U.S. Department of Veterans Affairs (VA) facilities: the Robert J. Dole VA Medical Center in Wichita, Kansas and the West Texas VA Health Center in Big Spring, Texas.
The VA has set its sights toward generating as much as 5 percent of its power supply from solar over the short term and 20 percent by 2020.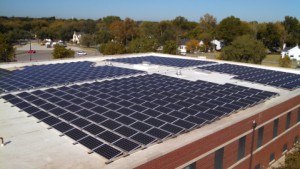 "We honor and value our nation's returning soldiers, and all they have done for us," said Ardes Johnson, U.S. vice president for sales of SolarWorld Americas Inc. and a former naval officer. "We know that solar can reduce the amount of fuel and fuel convoys in theater and therefore save lives as well as curb our needs for foreign fossil fuels. We also embrace the skills, leadership and training of our military men and women as potential employees working to advance this American-pioneered high-tech manufacturing industry."
One company that participated in the Tennessee project is the Efficient Energy of Tennessee (EETN), a company founded by a veteran and has supported up to 20 jobs for veterans at its solar projects for the VA. EETN was established in 2009 in Powell, Tenn., by Robbie Thomas, a 21-year veteran of the U.S. Navy Submarine Force.
"As a veteran, I fully understand how expanding renewable energy supports our national defense and energy security," Thomas said. "Efficient Energy of Tennessee is proud to support veterans in the solar energy workforce because they bring an unparalleled skill set and unyielding focus to accomplish the mission."