The American Biogas Council has awarded the Hometown BioEnergy facility with its "Biogas Project of the Year" award. The LeSeur, MN plant is owned by the Minnesota Municipal Power Agency, with management partner Avant Energy, and utilizes anaerobic digestion to produce renewable electricity from food processing and agricultural waste. Once the methane gas is produced, also known as renewable natural gas, it is used locally and saved for use during high demand times.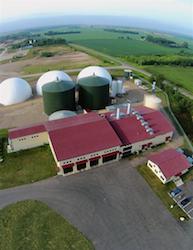 According to Steve Schmidt, MMPA chairman, "We're very proud of this award because it recognizes the innovation built into Hometown BioEnergy, where we produce methane and store it, ready to burn in our generators during on-peak hours when the value of the energy is highest. This biogas facility, because of its ability to store biogas until it's needed, is an excellent complement to renewable power generated from wind or solar."
This is not the first award for the facility. Hometown BioEnergy was also recognized by POWER Magzine as a 2014 Top Renewable Plant and was featured on their December cover.
Patrick Serfass, executive director of the American Biogas Council said in a news release announcing the award, "The quality of innovation in the biogas industry is at a fever pitch today."