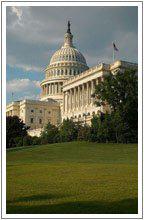 Biofuels backers say a U.S. House Science Committee had very little to do with science in regards to the Renewable Fuel Standard (RFS). The Congressional committee met on the 10th anniversary of the RFS, and Tom Buis, co-chair of Growth Energy, said the committee has a history of misrepresenting biofuels, relying on misinformation and outright lies to cast a negative light on an American success story.
"Today's hearing was nothing more than a coordinated attack against biofuels. Minus a few open-minded individuals who examined this issue based on facts, not pre-determined bias, this hearing did nothing to reflect the overwhelming contributions of the RFS…
"With regards to the environmental benefits of ethanol, the facts are clear. According to Argonne National Laboratory, – an objective national laboratory – ethanol reduces greenhouse gas (GHG) emissions by an average of 34 percent compared to gasoline, even when the highly controversial and disputed theory on Indirect Land Use Change (ILUC) is factored into the modeling. Furthermore, Argonne has found that without ILUC included, ethanol reduces GHG emissions by 57 percent compared to gasoline.
"It is unfortunate that the Science Committee missed an opportunity to provide an unbiased examination of the RFS. Instead, the Committee – which has no jurisdiction over this policy – continued to present a misguided agenda to smear biofuels, hosting several witnesses that fabricated information on the impact biofuels have on food prices, the environment and the American economy. This treatment of homegrown American fuels is insulting to the hardworking Americans across our country who are helping fuel our energy independence."
Renewable Fuels Association (RFA) President and CEO Bob Dinneen said "Big Oil's narrative opposing the RFS no longer has any currency."
"The argument from Wendy's, for example, alleging the RFS drove food prices higher was demonstrably refuted by the simple fact that corn prices are lower today than when the original RFS was passed in 2005. Testimony by the Congressional Budget Office further confirmed that expanding the RFS to statutory levels would not increase food prices further. Today's hearing shows that, once and for all, the food versus fuel canard should permanently be put to rest.
"Further, the controversial notion espoused by Dr. DeCicco that the carbon emissions from biofuels are no better than, and could be worse than, gasoline was similarly refuted when upon questioning he could not come up with a logical explanation as to why recycling carbon through plant growth is not inherently and infinitely better than releasing carbon from stored petroleum after thousands of years. When confronted with the fact that his theory is not supported by EPA, DOE, USDA, CARB or any other state or federal regulatory agency, Dr. DeCicco had nothing substantive to offer."
Dinneen said while oil companies wanted to cut down the RFS, the hearing actually served to expose the flaws in their ant-RFS campaign. He also thanked Reps. Suzanne Bonamici, Don Beyer, and Darin LaHood for their staunch support of the RFS.