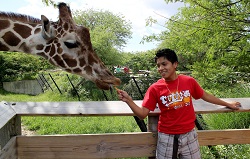 Petroleum can be a real beast for consumers and the environment, but a place that knows a bit about keeping wild beasts in check is using biodiesel to cage its oil usage. This story from WFYI says the Indianapolis Zoo is turning leftover cooking oil into the green fuel.
At the Zoo's café, Manager Pat Cummings drops an order of fries into the deep fryer. "The oil we actually use, we turn into the zoo and they use to power their vehicles," Cummings said.
That's the gist of a new program that's fueling the zoo's conservation mission. It has been working with Cummins for about five years to create the biodiesel initiative, and just recently produced its first couple batches to fuel the small utility vehicles it uses.
Nora Fletchall, supervising VP of operations for the Indianapolis Zoo, says the project is in line with the zoo's mission to encourage people to live greener lives.
"We want to be a model for that, so this is a program that helps us to talk to the public about what we are doing but also engage them in conversations about what they can do as well," Fletchall said.
Behind the scene's at the zoo's fuel station, Jack Bow, Indy Zoo's director of facilities, says the process is pretty simple.
"We'll pump it into our processor, we'll add our catalyst to go with it, basically methanol and potassium hydroxide, it's heated up and then eventually it will turn into the biofuel we're using," Bow said.
The zoo uses about 4,000 gallons of diesel right now. The project could replace 500 gallons of that with biodiesel.