According to a new survey, 54 percent of Americans have a positive view of electric vehicles (EVs) while 31 percent say they will consider buying an EV for their next car purchase. This despite only one percent of vehicles sold in the U.S. today are EVs. The survey was released by the Consumer Federation of America (CFA).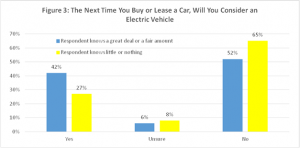 "While the current market penetration of EVs is small, there are currently 12 automakers currently offering a wide variety of EVs, so these consumers already have choices," said Jack Gillis, CFA's Director of Public Affairs and author, The Car Book and the new Snapshot Guide to Electric Vehicles.
The survey also found that the more information a consumer knew about EVs, the more likely he/she would consider purchasing an EV. However, only 6 percent of respondents said they new a great deal of about EV and 21 percent said they knew a fair amount. The survey also found that wealthier respondents and those with more education said they knew more about EVs and were more likely to express an intention in purchasing as were males and older adults.
"Clearly, there is a tremendous opportunity for EV sellers to take advantage of this interest as long as they engage in the same effective marketing that has moved millions of gas powered vehicles," said Mark Cooper, CFA's director of research. Our research shows a clear, statistically significant, correlation between knowledge about EVs and positive attitudes towards EVs. The more one knows about EVs, the more positively one feels about these vehicles. Furthermore, there is a statistically significant correlation between positive attitudes about EVs and a willingness to purchase them—those who feel positively about EVs are more likely to consider purchasing one."
In light of automakers dedicated millions of dollars into developing and launching EVs, and the need for more consumer education about the vehicles, Gillis has written a free guide, The Car Book's Snapshot Guide to Electric Vehicles.
"Our goal is to expose the public to the options available and thereby increase interest in learning more about these vehicles. With battery prices coming down, disruptive innovators like Tesla and Apple entering the EV market, and consumers looking for ways to reduce their dependence on the gas pump, there is no question that EVs are poised to become the next big thing in the automotive marketplace," Gillis added.