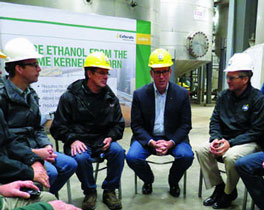 Republican presidential candidate and former U.S. Senator Rick Santorum visited the site of the first commercial cellulosic ethanol production in the state of Iowa at Quad County Corn Processors (QCCP) Friday.
"One of the things that's helped rural small towns and farmers, particularly in Iowa, is the Renewable Fuel Standard," said Santorum, who met with met with plant representatives, including QCCP CEO Delayne Johnson, who share how they recently passed the two-million gallon milestone for cellulosic ethanol production using Syngenta's Cellerate™ process technology.
"We are excited to have achieved our goal of producing 2 million gallons per year of cellulosic ethanol, and are on target to continue, or increase, this production level going forward," Johnson said. "We're now focusing on growing alliances and relationships within the industry."
During 2014, QCCP achieved EPA certification to generate D3 Renewable Identification Numbers (RINs) for cellulosic ethanol. According to Johnson, the generation of D3 RINs helps fulfill advanced and cellulosic requirements set forth by the RFS. QCCP is among the first companies to issue D3 RINs, which has also enabled the company to expand sales into racing and advanced biofuels markets.
Santorum met with Johnson and others at the plant to discuss renewable fuels policy and see first-hand the innovative process technology that has enabled QCCP to become a leader in cellulosic ethanol production. Sen. Santorum also called for investment in flex fuel infrastructure to increase access to biofuels – which he believes would provide consumers with increased access to the fuel marketplace and allow greater market competition.