The National Advanced Biofuels Conference kicked off last week with a heated discussion about the state of advanced biofuels in the U.S. with a focus on the Renewable Fuel Standard (RFS). Following the panel I had a chance to speak with Joe Jobe, CEO of the National Biodiesel Board NBB) who was joined on the panel by Micheal McAdams, President of the Advanced Biofuels Association, and Monte Shaw, Executive Director of the Iowa Renewable Fuels Association.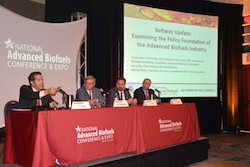 Jobe said the panel was heated because biodiesel represents the only commercially available, nationwide advanced biofuel in the market today. He made reference to one group who said that the RFS is no longer the solution but has become part of the problem. "We are very much opposed to the sentiment," said Jobe. "We believe biofuels groups need to stay together and not segment and bash each other."
The RFS is poised to get on track despite two years of stumbling said Jobe. The final RVOs (renewable volume obligations) are due from the Environmental Protection Agency (EPA) by the end of November and Jobe said at least then the industry will have some guidance. It will also aid their argument that increasing the biomass based diesel and advanced biofuels categories will help strengthen the RFS overall. He's optimistic.
Jobe also stressed the need to get the biodiesel tax incentive reauthorized and put in place for the next few years. In addition, he spoke about one of the topics that will be of great interest in their upcoming conference in Tampa, Florida at the end of January: the next level of discussion on energy policy and that's carbon policy.
Listen to my interview with NBB's CEo Joe Jobe here: Interview with Joe Jobe, NBB