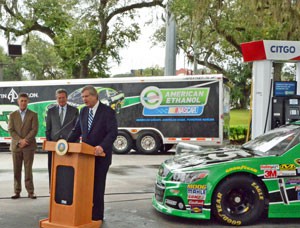 Agriculture Secretary Tom Vilsack was at a Citgo station in Kissimmee, Florida today to announce a USDA partnership to increase fueling pumps for biofuels in 21 states through the Biofuel Infrastructure Partnership (BIP).
The investment will nearly double the number of fueling pumps nationwide that supply renewable fuels to American motorists. "The Biofuel Infrastructure Partnership is one more example of how federal funds can be leveraged by state and private partners to deliver better and farther reaching outcomes for taxpayers," said Vilsack.
The 21 states participating in the BIP include Colorado, Florida, Illinois, Indiana, Iowa, Kansas, Louisiana, Maryland, Michigan, Minnesota, Missouri, Nebraska, North Carolina, North Dakota, Ohio, Pennsylvania, South Dakota, Texas, Virginia, West Virginia, and Wisconsin. The final awards being announced today are estimated to expand infrastructure by nearly 5,000 pumps at over 1,400 fueling stations.
Vilsack was joined by representatives from Growth Energy and Florida-based Protec Fuel to make the announcement. "We're very excited about this USDA program because we're going to be opening up sites in other parts of Florida, as well as across the country," said Protec Fuel VP of Operations and Business Development Steve Walk. "What this program is going to help us do is help speed up the growth" of stations offering higher ethanol blends.
Growth Energy CEO Tom Buis congratulated Protec Fuel and thanked Secretary Vilsack for his support of renewable fuels. "The Biofuel Infrastructure Partnership is helping us to further leverage industry funds to gain measurable market access in a far timelier manner than we could accomplish otherwise," said Buis."
Listen to remarks from Walk, Buis and Vilsack here: Secretary Vilsack announces biofuels infrastructure funding
Vilsack remarks to the media: Secretary Vilsack comments on Biofuel Infrastructure Partnership