"We wanted a poll to tell us the truth about where caucus voters stand. This isn't a Republican thing or a Democrat thing. This is an American thing. This represents the future," said Eric Branstad the Iowa State Director of America's Renewable Future (ARF) during a press call to release the results of a new poll.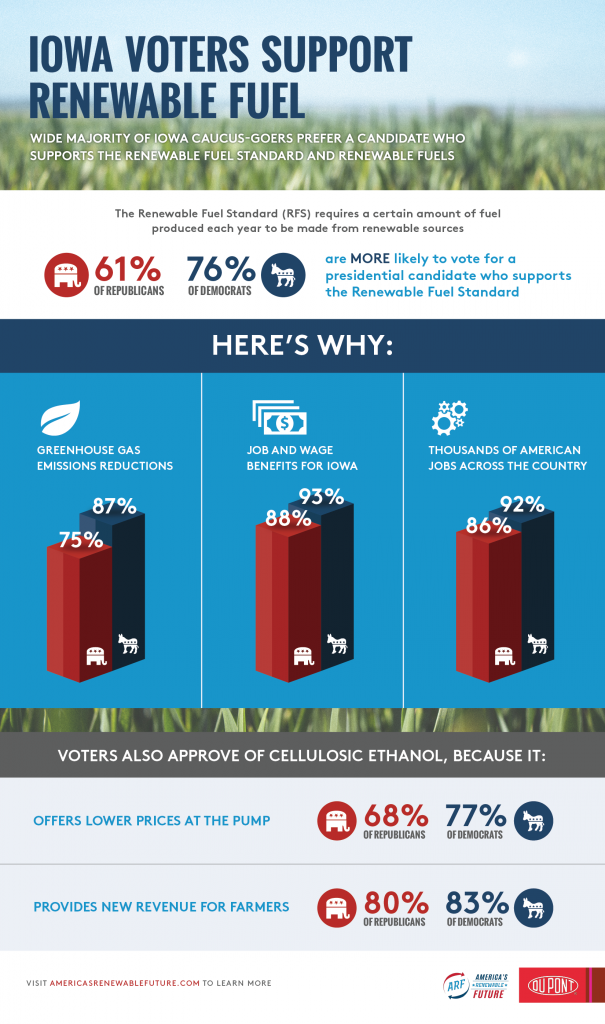 The results find that a majority of caucus-goers from both political parties would be more likely to vote for a presidential candidate who supports the Renewable Fuel Standard (RFS) and biofuels, specifically ethanol. The poll also found that 61 percent of Republicans and 76 percent of Democrats would be more likely to support a candidate who supports progress in these areas. The poll was commissioned by ARF and DuPont and conducted by Selzer & Company who is best known for their Iowa Poll on behalf of the Des Moines Register.
"The idea behind this poll was to get clean reads on what people are thinking in this space very generally and then unpack the rationale behind some of the feelings they have," said Anne Selzer, president of Selzer & Company when discussing the poll methodology.
In addition to Selzer and Branstad, comments were also made from Brooke Coleman, founder and executive director of the Advanced Biofuels Business Council and Jan Koninckx, global business director, biofuels for DuPont.
Listen to the press conference here: Iowa Caucus Voters RFS Poll Press Conference
After being asked their views on the RFS without introducing any information about the policy, the poll delved in a bit more as a means to understand how caucus goers viewed renewable fuels and the RFS specifically. Results show several reasons why voters believe the RFS should continue:
75 percent of Republicans and 87 percent of Democrats surveyed endorsed lower greenhouse gas emissions compared to gasoline as a good reason to continue the RFS.
88 percent of Republicans and 93 percent of Democrats react favorably to the strong job and wage benefits the RFS ensures for Iowa and 86 percent of Republicans and 92 percent of Democrats say the hundreds of thousands of American jobs the RFS ensures across the country are a good reason to continue the program.
Seventy-one percent of both Republicans and Democrats have positive associations with ethanol and a nearly identical percentage of both Republicans and Democrats 84 and 88 percent respectively – say the RFS is good for Iowa. And, once informed about the RFS and cellulosic ethanol, 79 percent of Republican and 90 percent of Democratic likely caucus-goers say the RFS is good for the nation.
The poll also sought to understand voters views on second generation biofuels such as cellulosic ethanol, as Iowa is the leader in advanced biofuels production and on October 30, 2015, DuPont is opening its 30 million gallon cellulosic ethanol biorefinery. Once informed about the renewable fuel, strong majorities of both Republicans and Democrats support the product for offering lower prices at the pump (68 percent of Republicans and 77 percent of Democrats) and providing economic opportunity through job creation and establishing an entirely new revenue stream for local farmers (80 percent of Republicans and 83 percent of Democrats).