Al-Corn Clean Fuel CEO Randy Doyal, who also serves as Chairman of the Board of the Renewable Fuels Association (RFA), was a guest on Bobby Likis Car Clinic over the weekend. The ethanol plant is located in Claremont, Minnesota and Doyal spoke about how the ethanol market is evolving and how Minnesota's initiative in the industry is serving as a blueprint for helping solve future energy and economic challenges.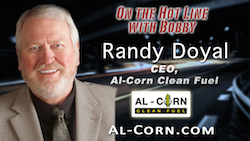 "Ethanol's track record of continuous improvement is impressive, but that drive for constant improvement is characteristic of the creative people who make up our industry," says Doyal about the ethanol industry. "The ethanol industry has significant potential to continue to evolve in ways that cannot be matched by petroleum fuels. I will admit that with all the information and misinformation about ethanol, it is sometimes difficult to separate fact from fiction. But I believe that an honest evaluation of our nation's ethanol industry will reveal a success story of which the American people can be proud. The ethanol industry embodies the kind of forward-thinking and pragmatism that will be needed to meet our nation's future energy and economic challenges."
Host Bobby Likis asked Doyal to tackle some commonly held ethanol myths and they also discussed the continuation of the Renewable Fuel Standard (RFS).
Click here to listen to the interview.