ampCNG has opened its second public-access compressed natural gas (CNG) station in Jacksonville, Florida Located in the Port of Jacksonville at the GATE station along I-295. The station is open 24 hours a day, seven days a week too all CNG vehicles.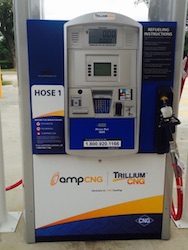 ampCNG selected the location due to Port of Jacksonville being home to one of the largest complexes on the eastern seaboard. The goal is that will a CNG station located in a high traffic area, more truck and fleet vehicles will convert to CNG. The company says the fuel burns 30 percent cleaner and produces 90 percent less particulate emissions, or smog, than its diesel counterpart.
The location features a fast-fill hydraulic intensifier compressor (HY-C) that enable three Class 8 trucks to simultaneously fuel at 10 diesel gallon equivalents per minute. ampCNG also owns and operates the only other CNG station in the area, which is located in southern Jacksonville at 9711 Mining Drive off Highway 1 and 295. With two stations strategically located north and south of the city, ampCNG says CNG trucks can now travel in either direction without needing to stray from their designated routes to refuel, saving valuable time and money.