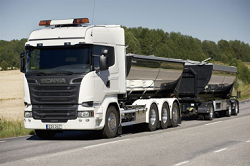 European truck maker Scania has approved hydrotreated vegetable oil (HVO) for use in its Euro 6 range of trucks. This news release from the company says the green fuel can cut carbon dioxide emissions by 90 percent.
Örjan Åslund is Head of Product Affairs at Scania. "We have decided to give our blessing to the use of HVO biodiesel in our diesel vehicles," he says. "Scania is the leading manufacturer when it comes to offering power trains for alternatives fuels, and we have considerable experience with the practical side of driving using HVO. It's an alternative fuel that has relatively few disadvantages when compared to diesel, while also offering a large reduction in CO2emissions."
Earlier this year, Scania approved HVO for use in all types of Euro 5 vehicles and all types of operations. In cooperation with customers, the company also initiated a field test in Sweden involving some 100 trucks with Euro 6 engines.
"Thanks to the certification and our own decision, all Scania hauliers with Euro 6 engines can use HVO, including in buses," says Åslund. "I know that interest is very high. The challenge for most operators will be in getting access to HVO, as both production and distribution facilities are still limited."