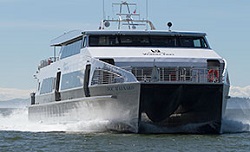 The newest ferry for the Seattle area is running on biodiesel. This article from Marine Log says the M/V Doc Maynard, started service at the end of September, replacing her sister ship, the M/V Sally Fox, which is undergoing some scheduled warranty work.
Both the Sally Fox and Doc Maynard were built by All American Marine, Inc. (AAM), Bellingham, WA. The 105 ft x 33 ft aluminum catamaran ferries are the first U.S. Coast Guard Sub-chapter "K" inspected passenger vessels built and delivered under new guidelines that make it possible for boat builders to design and implement suitable structural fire protection in very low fire load spaces in the construction of weight-sensitive high speed passenger vessels.
Each ferry is powered by two Cummins QSK-50 Tier 3 diesel engines, rated at 1,800 bhp at 1,900 rev/min and driving twin propellers to provide a service speed of 28 knots. The ferries also burn a 10 percent biodiesel blend and have LED lighting onboard.
All American Marine is sponsoring a tour of the Doc Maynard at MARINE LOG'S FERRIES 2015 Conference & Expo, set for November 5-6, 2015 at the Hyatt Olive 8 in Seattle.