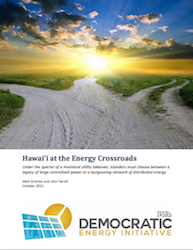 The Institute for Local Self-Reliance (ILSR) has released a new paper, "Hawai'i at the Energy Crossroads". The report highlights the fight in Hawai'i to control and harness it's vast renewable energy resources including solar energy. The paper demonstrates the choice between utility-promoted strategies and the distributed energy resources that are gaining ground on their own. The report also provides a "postcard" from the future for how other states can plan for a 100 renewable energy future.
Hawai'i pasted legislation early this year requiring all energy to be produced from renewable resources by 2045.
"More and more customers have easy tools to manage their own energy," said John Farrell, director of Democratic Energy at ILSR. "Hawai'ians are demanding more opportunities to harvest and store the power of the sun on their own rooftops. Now, mainland leaders are looking toward the island state to decide whether to unlock the same opportunity."
Ultimately, Hawai'i at the Energy Crossroads shows how outdated utility business plans and corporate takeovers can affect a state's energy market for years to come.