Senator Pat Toomey (R-PA) introduced an amendment that would eliminate corn ethanol from the Renewable Fuel Standard (RFS). It was promptly defeated by the Senate Committee on Banking, Housing and Urban Affairs by a vote of 15-7. Pro RFS supporters came out en masse against Toomey's amendment and thanked the Committee for making the right decision on consumer choice at the pump.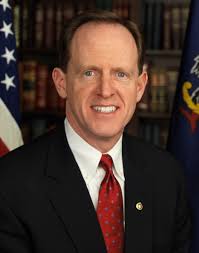 "Biofuels are a key part of energy independence and energy security," said Jon Soltz, Iraq War Veteran, and Chairman of VoteVets.org, the largest veterans group in America. "It is jarring to see a sitting U.S. Senator thumb his nose at our national security, just so he can repay his oil buddies. We need to figure out ways to use less oil. Pat Toomey is trying to make sure that we use more, and that his Big Oil pals make more profit as a result. It's was a disgrace, but thankfully common sense won out, over Pat Toomey."
Renewable Fuels Association (RFA) President and CEO Bob Dinneen made the following statement upon the news of defeat. "Consumers can breathe a sigh of relief when they fill up at the gas pump because today's vote by the committee ensures that ethanol will remain the number one source of renewable fuel in the world," said Dinneen. "The committee understood the writing is on the wall when it comes to the RFS, and that legislative proposals that seek to purportedly 'fix' the statute are nothing more than political gamesmanship. When Congress passed the RFS it did so with the intention of stabilizing and growing the biofuels market. The committee rightly rejected the amendment by Senator Toomey because it would have done nothing more than squelched investment and created uncertainty in the market, and would thereby have had a detrimental impact on the energy and economic future of generations to come."
Biofuels supporters cite the RFS as the most successful energy policy ever. VotesVets.org did some research into Senator Toomey's connections with the oil industry and found Big Oil his 12th largest contributor contributing $552,816,000. Of that, half (252,050) was made to his campaign committee over the course of the last few months, making the oil and gas industry the 10th largest contributor to Toomey this election cycle.
"It is no surprise that Senator Toomey's amendment failed – it never had a chance of passing," said Tom Buis, Growth Energy CEO. "Similar to legislation he has introduced before, it did not gain any traction and failed because this legislation only restricts consumer choice and attempts to dismantle a successful American industry that is creating jobs, improving our environment and reducing our dependence on foreign oil. The simple fact is that the RFS has bipartisan support and it has been the most successful energy legislation this nation has enacted in over 40 years."