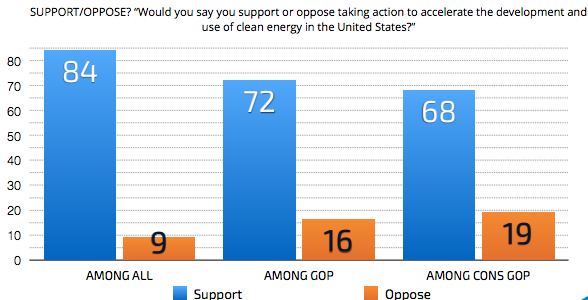 "Support for clean energy is both strong with the overall electorate and with the conservative Republicans that form a core constituency for many Republican elected officials," according to a new survey commissioned by ClearPath. Jay Faison, ClearPath founder, noted that the survey demonstrates that, "the big, myth-busting news was how wide and deep support for clean energy policy is among conservatives." The organization is dedicated to developing support for market-based clean energy solutions.
Key findings include:
84% of registered voters, including almost three-quarters of Republicans, favor taking action to accelerate the development and use of clean energy in

the United States

.
Energy independence, less pollution, and job growth are viewed by GOP voters as the "big 3" of clean energy benefits.
Solar policy enjoys enormous support among Republicans, with rooftop solar (82%) and net metering (86%) scoring highest among seven clean energy policy ideas tested.
Most voters – including a majority of Republicans (56%) – think the climate is changing and human activity is playing a role.
Among different approaches that win over voters on the issue of climate and clean energy, positive messages that emphasize what America can achieve are the most effective.
In particular, Republican and independent voters favor a candidate who says regardless of the debate over climate we should expand the use of clean energy because of its benefits and to mitigate risk.
The survey was conducted by Kristen Soltis Anderson of Echelon Insights in collaboration with Glen Bolger of Public Opinion Strategies and Whit Ayres of North Star Opinion Research.
Soltis Anderson said of the survey findings, "Voters are looking for leaders who want to solve problems and go beyond party politics. Voters, including Republicans, want to take a step back from the politicization of energy and climate issues and pursue clean energy on its own merits."