Former U.S. Senator Jim Talent from Missouri today launched Americans for Energy Security and Innovation (AESI), a new organization aimed at expanding support for the Renewable Fuel Standard (RFS).
"It's an organization supported by biofuels producers and investors around the country," said Talent, who notes that the RFS was one of his priorities when he served in the Senate between 2002 and 2007. "I've been very pleased by how the policy has worked," he said.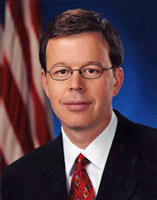 "(The RFS) has helped spark a revolution in value-added agriculture," said Talent. "It's had the effect of strengthening family farms and done it without price supports from the federal government … and it's sparked a lot of privately funded research in biotechnology."
Talent likens the RFS to a "gigantic strategic petroleum reserve except it doesn't cost the government anything to maintain, it's better for the environment, it creates large numbers of jobs and it supports family farming and agriculture across the country."
Questioned about how this group will differ from the many organizations and coalitions already promoting the RFS, Talent said they planned to work with the other groups but they wanted to have an independent platform and he believes the more voices the better. "If you look at the amount of money being spent by organizations that are not very friendly to the RFS, I think you'll find it dwarfs what's being spent in support of it," Talent said.
Listen to Talent's announcement here: Former MO Sen. Jim Talent announces new pro-RFS group