Constellation is offering customers a new electric vehicle charging program through the new Efficiency Made Easy (EME) program in partnership with ChargePoint. The program enables customers to help fund new EV charging stations and business may be eligible to purchase ChargePoint EV charging stations (including installation, serve and warranties) through their electricty or gas supply agreement.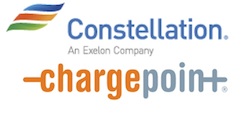 "Constellation is always looking for new and innovative energy solutions for our customers," said Divesh Gupta, manager, energy solutions for Constellation. "Efficiency Made Easy allows customers to implement technology such as ChargePoint's EV charging stations to better manage their energy use and support their environmental goals – without an upfront investment."
EME enables its commercial and industrial supply customers to implement energy efficiency and other solutions without up-front capital expenditures. The costs of these solutions are included over the term of a customer's supply agreement. In cases where customers are utilizing EME for efficiency measures, they may realize immediate savings on energy costs from reduced energy use according to Constellation.
Pasquale Romano, CEO of ChargePoint, added, "By offering charging stations, installation, service, and warranty with no upfront capital, this channel partnership is a great example of how energy companies can help to spur EV growth the right way. Minimizing the upfront cost to buy and install charging stations and providing customer choice, makes it possible for even more businesses to offer EV charging to their employees and customers."