Studies have found that wood-based UPM BioVerno significantly reduces harmful tailpipe emissions. Several engine and vehicle tests were conducted by a number of research institutes including VTT Technical Research Centre of Finland, University of Vaasa in Finland and at FEV, an internationally recognized vehicle engineering company based in Germany.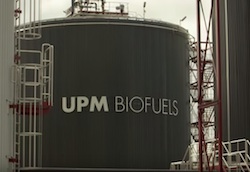 The Finnish company's renewable diesel functions just like conventional diesel in all diesel engines yet it generates up to 80 percent less greenhouse gas emissions during its lifecycle compared to conventional fossil diesel fuels, as found by the research.
According to the study, the renewable diesel also reduces harmful tailpipe emissions including particle mass, hydrocarbon, carbon dioxide, nitrogeous oxide and carbon monoxide emissions, but the percentage of reduction varied based on vehicle technology and blend. However, all tests demonstrated similar or improved efficiency of the engine, without compromising the engine power, when UPM BioVerno was introduced to the fuel blend. In addition, it was found that by using 100 percent UPM BioVerno diesel fuel consumption decreased.
FEV Germany carried out a series of tests on UPM BioVerno's effect on engine functionality and emissions with both a diesel blend containing 30 percent UPM BioVerno and 100 percent UPM BioVerno diesel. In addition to measuring engine output and fuel consumption, the tests focused on tailpipe emissions and the performance of UPM BioVerno compared with conventional diesel.
"UPM BioVerno renewable diesel was investigated in a screening campaign at FEV Germany. The results showed that even as a 30% blending component, the accumulated HC emissions were reduced by more than 50% and the CO emissions by more than 40% compared to reference fossil diesel. Our tests also showed good results in NOx emissions and efficiency," said Dr. Ing Thorsten Schnorbus, manager passenger car diesel, FEV.
UPM BioVerno was also tested in University of Vaasa, Finland using a heavy duty engine. These experiments were performed in the Technobothnia Education and Research Centre in Vaasa.