Renewable electricity demand in Europe is on the rise with businesses and consumers voluntarily purchasing renewable electricity with Guarantees of Origin. According to data published by the Association of Issuing Bodies (AIB), the European market is expected to reach a total market volume of 400 Terrawatt hour (TWh) in 2015 with Germany playing a dominating role.
In 2014 Germany reached a volume of 80 TWh, and is on track to reach a volume of 100 TWh in 2015, accounting for 25 percent of the European volume. The German figures as of Q2 in 2015 already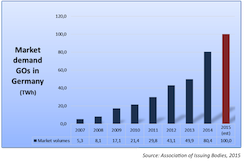 show a market demand of 69 TWh, an increase of 11 TWh, 19 percent higher than the 2nd quarter last year. Germany, with a total power consumption of 580 TWh, is now close to having 20 percent of all consumption documented as renewable.
For Europe in total, the 2015 2nd quarter numbers show an increase of 25 TWh compared to Q2 in 2014 – an increase of 11 percent. The total demand for Q2 reached a record volume of 255 TWh.
The development in 2015 follows a record-breaking 2014, during which the market experienced a 27.6 percent growth and an all-time high of 314 TWh in renewable electricity demand. Moreover, for the first time since 2011, there was a real balance between supply and demand.
The European demand for renewable electricity documented by Guarantees of Origin now constitute more than 10 percent of all electricity consumption in Europe (ca. 3,300 TWh) and more than one third of all electricity from renewable sources in Europe (ca. 900 TWh).