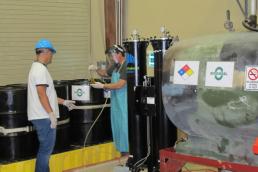 Killing the bad guys… and staying green, that's how American troops roll. This article posted on the military's DVIDS channel says U.S. forces at Bagram Airfield, Afghanistan, are turning waste cooking oil into biodiesel.
"Bagram generates an average of 186 gallons of used cooking oil each day," said Christopher Waechter, Fluor country environmental manager. "We chose a turn-key biodiesel processing system for ease of use … by local national laborers."
Waechter said the initiative was proposed as a cost avoidance measure with a three week return on investment. The overall cost avoidance is projected to be as much as $750,000 per year.
Since Fluor provides Hazardous waste processing for Forward Operating Bases Dahlke and Fenty, they are able to ship used cooking oil from those locations he said.
In addition to the cost savings, the process has the added benefits of removing used cooking oil from the waste stream and increasing the skill sets of the local national workers while allowing them to work in a safer work area.
Using biodiesel to fuel the incinerators is also a much safer option than traditional methods according to Waechter.
"Biodiesel is both biodegradable and non-flammable," Fluor Health, Safety and Environmental director Peter Provost said. "JP8 has a flashpoint of 98°F whereas the biodiesel has a flashpoint of 300°F so we've improved our safety envelope by more than three times. Any time you can achieve that kind of a percentage improvement, [its] a good thing."
So far, nearly 26,000 gallons of used cooking oil has been turned into almost 27,000 gallons of biodiesel, saving taxpayers more than $207,000.