U.S. Energy Secretary Ernest Moniz recently released a new roadmap to increase energy productivity.  "Accelerate Energy Productivity 2030: A Strategic Roadmap for American Energy Innovation, Economic Growth, and Competitiveness," reviews proven and effective strategies and actions to advance energy efficiency.
Strategies include:
states securing energy productivity through setting and updating vehicle and product codes and standards, and providing energy performance information to consumers;
utilities and regulators designing rates and related policies that more effectively align energy efficiency with utility business models; and
businesses reinvesting avoided energy costs.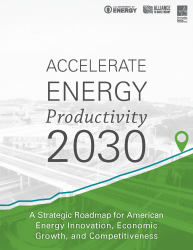 Moniz says by doubling energy productivity, American families will be able to power their homes and vehicles using less energy, while American businesses will be able to manufacture more while spending less and cutting harmful carbon emissions.
"Cutting energy waste and doubling energy productivity will help American families save money on their energy bills, enable businesses to produce more while using less energy and strengthen the U.S. clean energy economy," said Moniz. "This roadmap provides a path for families, businesses and governments, among others, to follow. By taking steps to increase efficiency and cut waste, the U.S. will be more competitive globally and will see direct and long-lasting benefits for decades to come."
The Roadmap focuses on scalable actions that have the potential to reduce energy consumption and support economic growth. The federal government, many state and local governments and a number of organizations in the private sector are already deploying energy productivity strategies, including some that are featured in the report, demonstrating that the goal of doubling energy productivity can be achieved. While energy productivity strategies often involve multiple economic sectors and levels of government, the strategies laid out in this report demonstrate that any organization or individual can take steps to double national energy productivity by 2030. The report provides a foundation for scaling up these efforts nationwide, while allowing for flexible and tailored solutions.