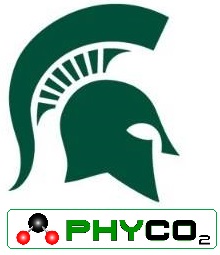 Michigan State University (MSU) and algae company PHYCO2 are developing algae technologies that cut greenhouse emissions and could eventually lead to more biodiesel. This article from MSU says PHYCO2's revolutionary and patented concept promotes algae growth and sequesters, or captures, carbon dioxide from power plant emissions.
Under the collaborative research agreement, MSU and PHYCO2 – an algae growth and carbon dioxide sequestration company based in Santa Maria, California – will investigate the performance of PHYCO2's algae growth and carbon dioxide absorption technology, as well as algae-processing technologies.
PHYCO2 will be testing its algae photo bioreactor, technology that continuously captures significant amounts of CO2 and grows algae with LED light, at MSU's T.B. Simon Power Plant. MSU and PHYCO2 expect to be able to absorb up to 80 percent of captured CO2 emissions for the production of algae. MSU will be testing the growth of several algae strains and post processing of the algae that is grown.
The project's goals are to cost-effectively grow algae while significantly absorbing CO2 for sequestration from the gas emissions at the power plant. The algae can then be sold into current markets for biofuels, bioplastics and other applications.
"MSU has always been on the forefront of cutting-edge research and development," said Robert Ellerhorst, director of utilities at the MSU power plant. "Our collaborative work with developers fits MSU's research agenda to solve the world's problems – in this case, reducing greenhouse gas emissions."
"We are confident that this partnership between MSU and PHYCO2 will meet and exceed the challenge issued by the White House," said PHYCO2 CEO Bill Clary. "The PHYCO2 photobioreactor represents the future of cleaner emissions and the first CO2 capture technology that truly is market sustainable."