According to a new white paper, implementation of the Clean Power Plan (CPP) will not cause blackouts and opposers to the plan claim. Lauren Azar, former Commissioner at the Public Service Commission of Wisconsin and senior advisor to former Energy Secretary Steven Chu, conducted a detailed review of the recent history of the power industry and found that utilities will quickly adapt to changes brought about by the CPP.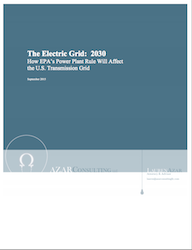 Using recent industry trends as the foundation, the paper demonstrates how the power sector has adapted to change in the recent past. One key indicator in the final CPP is the Environmental Protection Agency's (EPA) estimate that there will be a need to build at most 13.6 gigawatts (GW) of new natural gas plants in the next 10 years to meet the demand for electricity as coal plants phase out. The paper notes that, from 2000 to 2010, the country added the equivalent of 237 GW in new natural gas plants as power producers seized the opportunity to capitalize on the vast supply of cheap natural gas—showing that the natural gas industry is capable of building over 13 times the amount of power plants than the EPA estimates will be needed to maintain resource adequacy.
In a similar examination of the renewable sector, the paper finds that in 2014 alone, the country added nearly 7 GW of solar and 4.9 GW of wind electric-generation, making the EPA's estimated target of 81 to 84 GW in those renewables by 2030 a feasible task.
Recent history serves to demonstrate how the energy industry can adapt to comply with the CPP without risking additional blackouts, but the paper also notes that, in the unlikely event of a reliability issue, the CPP has several backup plans to address any grid reliability threat.