According to new research, global biofuels capacity will grow to 61 billion gallons per year (BGY0 by 2018. Ethanol and biodiesel will continue to dominate with 96 percent of the capacity in 2018, but novel fuels and novel feedstocks will be major drivers of capacity growth, according to Lux Research.
The study finds that novel fuels and novel feedstocks will grow at a rate of 27 percent and 16 percent compound annual growth rate (CAGR), respectively, through 2018. Ethanol and biodiesel will grow at a slower 2 percent rate but will reach capacities of 40 BGY and 19 BGY, respectively.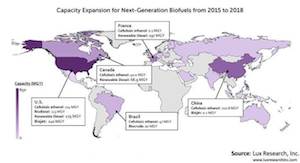 "While ethanol and biodiesel dominate global biofuel capacity today, limits on their growth mean that novel fuels like renewable diesel, biojet fuel and biocrude are crucial to the future of the industry," said Victor Oh, Lux Research Associate and lead author of the report titled, "Biofuels Outlook 2018: Highlighting Emerging Producers and Next-generation Biofuels."
"Producers also need to tap into novel feedstocks like waste oils, non-edible biomass, and municipal solid waste to push the industry beyond food-vs.-fuels competition," he added.
Lux Research analysts studied growth of biofuels utilizing an alternative fuels database of over 1,800 production facilities globally. Among their findings:
Waste oils will dominate next-generation biofuels. With a 52% share, biodiesel made from novel feedstock, specifically waste oils, will lead novel fuels capacity in 2018. Cellulosic ethanol and renewable diesel follow with 19% and 18%, respectively.
Americas continue dominance. With a 64% share of global biofuels capacity, the Americas are a dominant force. The region, led by the U.S. and Brazil, also leads in utilization of global production capacity with 86%, much higher than the global average of 68% in 2014.
Eight countries are biggest emerging producers. China, Indonesia and Thailand in Asia; Colombia and Argentina in the Americas; and Portugal, Poland and France in Europe are the biggest emerging production centers for biofuels after the U.S. and Brazil.