Just in time for winter heating and agriculture crop drying seasons, the supplies of propane hit record levels in the U.S. This U.S. Energy Information Administration report says inventories of propane and propylene reached 97.7 million barrels as of September 11, the highest level in the 22 years.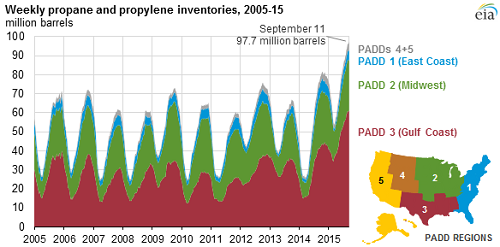 During the first six months of 2015, production of propane at natural gas plants was 31.3 million barrels, or 172,000 barrels per day (b/d), higher than during the first half of 2014. Exports increased by 33.3 million barrels (182,000 b/d) over the same period.
In the United States, propane is mainly used for space heating and as a feedstock for petrochemical plants, as well as for drying agricultural crops. Relatively small amounts of propane are also used for fueling vehicles. Its heating and agricultural uses make propane consumption highly seasonal and weather dependent, rising in the fall and peaking in the winter. In addition to heating and agricultural use, propane is used by petrochemical plants to produce ethylene and propylene, key building blocks for the manufacturing of chemicals and plastics. Petrochemical propane consumption has little seasonality but can vary significantly based on plant operations.
Traditionally, propane and propylene stocks increase from the start of April to the end of September, and they are drawn down from October to March, when agricultural and heating demands increase. In 2015, inventories began increasing in mid-February, more than six weeks earlier than the historical average.
EIA expects propane and propylene inventories to begin the October heating season at record levels, reaching a high of 99.1 million barrels at the end of September.