ReNew Power Ventures has completed installation of India's tallest wind tower. The S97 stands at 120 m and according to company, offers a 33 percent increase in hub height when compared to the conventional tower design. In addition, ReNew said it is a revolutionary on-shore installation of lattice/tubular combination towers (hybrid towers) of 120 m height. The hybrid towers are manufactured by Suzlon and has been commercially erected, for the first time, anywhere in the world in India.  It is a part of a 100.80 MW wind farm in Rajasthan, which is being commissioned alongside the 12.6 MW currently operation.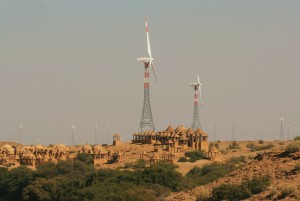 Suzlon said the S97 should have a gain in wind speed between 4-5 percent and industry research finds this should increase annual generation between 12-15 percent.
"As a leading energy company, ReNew Power is at the forefront of adopting the most innovative and technologically advanced equipment and systems available in the market today, while at the same time partnering with and encouraging OEM's to explore new technologies and solutions," said Sumant Sinha, Chairman and CEO, ReNew Power. "Industry estimates reveal that in India, approximately 400 million people do not have access to electricity. To meet the growing energy demands of the already highly strained energy infrastructure, the country requires a sustainable energy module. We are excited to be a first with this breakthrough installation in wind energy in the state of Rajasthan."
Speaking on the occasion, Mr. Tulsi Tanti, Chairman, Suzlon Group, added, "Suzlon's R&D efforts are focused on developing high yield products that effectively bring down the cost of energy (COE) and improve customers return on investments. Our endeavour to provide sustainable and affordable energy solutions have resulted in the path-breaking S97-120 m (2.1MW) turbine with hybrid tower, which is designed to harness more energy from low wind sites. ReNew Power has always valued technology innovation and has been at the forefront of embracing and encouraging new technologies. We are delighted to partner with ReNew to enhance India's clean energy output and contribute towards powering a greener tomorrow."
This is ReNew Power's fifth project in Rajasthan and the company already has more than 100 MW of installed and commissioned wind energy in the state.