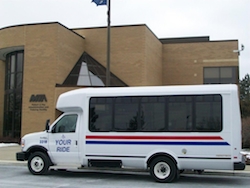 ROUSH CleanTech is now offering a Ford E-450 extended range fuel tank fueled by propane autogas. The larger fuel tank, with 64 gallons of fuel, now holds 56 percent more fuel than the standard option. The truck will begin shipping in October.
"We listened to our paratransit customers who wanted the Ford E-450 chassis, yet also needed more autogas fuel capacity," said Todd Mouw, vice president of sales and marketing for ROUSH CleanTech. "With this extended range fuel tank, we offer the longest driving range for this model — plus an extended warranty for those customers."
Built on Ford's 6.8-liter V10 engine, the Ford E-450 with extended range fuel system comes with an extended 5-year, 100,000-mile warranty exclusively for the transit industry.
ROUSH CleanTech Ford E-450s are California Air Resources Board and Environmental Protection Agency compliant and have completed Federal Transit Administration's New Model Bus Testing Program ("Altoona Testing"). Altoona-tested vehicles can be purchased using a transit agency's FTA funds.