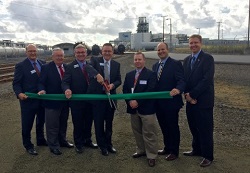 Biodiesel giant Renewable Energy Group (REG) has cut the ribbon on its latest refinery. This company news release says REG formally opened the 100-million gallon capacity Grays Harbor, Washington, biorefinery, formerly owned by Imperium.
"REG Grays Harbor's addition to REG is a significant milestone for our company," said Daniel J. Oh, President and CEO, noting that the plant is the Company's 11th, and now largest, biorefinery and its first west coast production facility. "The transition has been seamless thanks to the dedicated employees here and to other teams within our company."
Oh also thanked local government leaders in Hoquiam and Aberdeen for working with the Company during the transition and praised the work of Washington's congressional delegation and Governor Jay Inslee for being champions of advanced biofuels.
Gary Haer, Vice President, Sales and Marketing, told the crowd that production at the Grays Harbor biorefinery will aid REG's efforts to grow biodiesel sales along the west coast region. "We can now serve customers and expand sales of high quality REG 900™ fuel in Washington, Oregon, western Canada as well as increase sales throughout California to meet LCFS demand," Haer said. "And with the multi-modal capabilities at the terminal and port, we increase our flexibility to fulfill orders via the use of truckload, rail car, or Panamax class tanker shipments."
Local leaders welcomed REG to the area business community. "Today marks the beginning of an exciting new chapter for biodiesel production in Grays Harbor," said Dru Garson, CEO of Greater Grays Harbor, Inc. "We're excited by the prospects of having REG as a community partner, as their track record of operating plants and re-investing in the community is impressive."
REG Grays Harbor also boasts 18 million gallons of on-site storage and a terminal that can accommodate feedstock intake and fuel shipments by truck, rail and deep-water vessel.