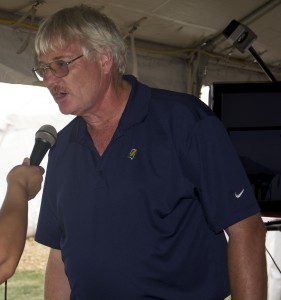 I stopped by the Illinois Corn booth during the Farm Progress Show and had the opportunity to speak with Kenneth Hartman, an Illinois corn, soybean and wheat grower. He gave me an update on the their efforts to increase mid-level ethanol blends across the state. One such initiative is working with key players in Chicago to get 150 E15 stations up and running in the city. A piece of legislation is sitting with the Alderman and the mayor and Hartman hopes Mayor Rahm Emanuel will sign on the line for the E15 roll out yet this year.
Speaking of E15, Harmann said they are working with retailers across the state to build the infrastructure. They have been working with the American Lung Association and the Illinois Corn Marketing Board has allocated money to help with infrastructure through the Prime The Pump program. This program, he noted, provides matching funds for USDA's BIP program. Ag Secretary Tom Vilsack recently announced the allocation of $100 million in program funds.
Other initiatives include working with pump manufacturers to get equipment standardized and approved for E15 as well as consumer education.
To learn more about Illinois Corn's ethanol initiatives, listen to my interview with Ken Hartman: Ken Hartman, Illinois Corn Interview
Check out the Farm Progress Show photo album.