New fast chargers for electric vehicles are now available in Québec with a 400-V fast-charge station and four 240-V charging stations as a result of a new partnership between the Electric Circuit and Magog's Carrefour Santé Globale (CSG). This is the first public fast-charge station in the Estrie region. This initiative was made possible by Nissan Canada.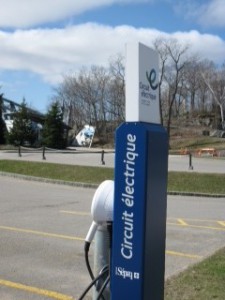 "We salute the initiative of Carrefour Santé Globale that allows Magog to be the first city in the region to offer a fast-charge station for drivers of all-electric vehicles, in addition to playing a strategic role in the Québec-Vermont charging corridor," said France Lampron, Director – Transportation Electrification at Hydro-Québec on behalf of the founding partners of the Electric Circuit. "We are pleased to have such a dynamic partner contribute to making the Electric Circuit the most extensive public charging network in Québec."
The fast-charge network is growing rapidly and this new charging station is an additional point of service along the Montréal-Vermontcharging corridor. The Electric Circuit is the largest public charging network in Québec. A total of 34 charging stations are now in service in the Estrie region including 11 in Magog, 1 in Racine and 22 in Sherbrooke.
"We are delighted to offer these new public charging stations. This initiative reflects Carrefour Santé Globale's commitment to offer an array of services to its customers and ties in with our sustainability strategy," added Gilles Bélanger, General Manager of CSG. "In addition, we are proud to participate in the efforts of the City of Magog to reduce its greenhouse gas emissions."