Iluméxico, the Mexican social enterprise focused on solar power, has made a commitment through the Business Call to Action (BCtA) to offer its Solar Home Systems to 50,000 off-the-grid rural homes. By 2020, more than 300,000 people will have access to solar power and along the way, Iluméxico will help create 180 new jobs, of which 90 will be designed for women and 70 will be based in rural communities.
The company plans to increase its "ILU Centros" support network from 5 to 50 locations nationwide and strengthen alliances with both public and private institutions. Anticipating up to 70 percent growth within the next five years, Iluméxico also plans to expand its business into two new Latin American countries by 2020.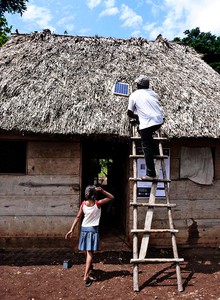 "Delivering affordable, sustainable solar power to off-grid rural communities brings Iluméxico one step closer to realizing its vision of ensuring access to electricity for all Mexicans by 2040," said Manuel Wiechers, Iluméxico's CEO. "Bringing clean, long-lasting illumination to people at the bottom of the economic pyramid is furthering the country's development through income generation and learning opportunities for client families, along with cleaner, more sustainable energy use. We are pleased that our work has been recognized by the Business Call to Action and look forward to working with the organization and fellow members to advance our mission."
More than three million Mexicans – 600,000 households – live in remote, rural locations. Their geographic location and isolation make it difficult and expensive for government infrastructure and electrification projects to reach them. Iluméxico's business model taps into this unmet need through the design and manufacture of a wide range of solar systems for bottom-of-the-economic pyramid markets. Approximately 60 percent of Iluméxico's customers are indigenous and all live in isolated areas in communities of less than 100 households.
Suba Sivakumaran, BCtA's Programme Manager, added, "Consistent access to clean, efficient energy can transform lives and livelihoods, with wide-spread impacts on a country's development agenda. This includes income-generating opportunities, reduced use of biomass and other unsustainable solid fuels, greater opportunities for education and healthcare, and more engaged, productive households and communities."