The K2 Wind Power Facility located in Township of Ashfield-Colborne-Wawanosh (ACW) in southwestern Ontario is official generating wind energy. The 270 MW facility was commissioned recently during an event hosted by Samsung Renewable Energy, Capital Power Corporation and Pattern Energy Group Inc. Canada now has more than 10 GW of installed wind energy capacity making it in the 7th country in the world to reach this lever of wind energy production according to the Canadian Wind Energy Association.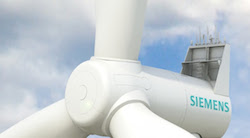 "On behalf of the Council of the Township of Ashfield-Colborne-Wawanosh I would like to congratulate everyone who had a part in this long and complex project that created one of Canada's largest wind-energy facilities," said Deputy Reeve Roger Watt. "We would especially like to thank K2 Wind for its commitment to the Community Benefit Fund. This will enable the Township to undertake infrastructure-improvement and community-development projects over the next 20 years that we otherwise simply would not be able to pursue."
K2 Wind has created a Community Benefits Fund Agreement with the Township of ACW to deliver approximately $15 million in funding for community initiatives over the next 20 years. K2 Wind will also support local residents living near the facility through lease agreements and other benefits.
The facility's wind turbine components were manufactured in Ontario. A total of 700 turbine tower sections were produced in Windsor by CS Wind and the 420 blades were built in Tillsonburg by Siemens, directly supporting over 800 manufacturing jobs in Ontario. K2 Wind expects to have approximately 20 full-time operations and maintenance employees, along with an additional 10 seasonal positions.
Mike Garland, CEO of Pattern Energy added, "This event is to thank the community, the landowners and the local officials that worked to make this project possible. Going forward, K2 Wind will return many benefits to the community by providing ongoing funding for important community projects and initiatives at the same time helping to reduce pollution for Ontario and the globe."