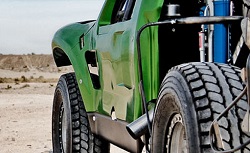 A Boise State University non-profit wants to run an off-road race in Mexico on biodiesel, which the group believes will give them an edge for the win. This article from KMVT-TV says Greenspeed Research is building a biodiesel trophy truck to compete in the Baja 1000, an off-road race that takes place on Mexico's Baja California Peninsula in the third week of November.
"Right now, we're preparing for our next vehicle, which is a biodiesel powered trophy truck. And we're shooting for racing at the Baja 1000," said Dave Schenker, co-founder of Greenspeed.
"A biodiesel powered trophy truck is pretty much the top tier of off-road racing that usually has a big gas guzzling V-8 powered engine in it. But we're bringing a new fuel and a new engine technology to that event," said Schenker.
What does going green mean, as far as performance is concerned?
"Performance is the same. The gas mileage is different. The regular trophy truck drivers brag about getting 2.5 to 3 miles per gallon. We should be getting 7 to 8, 9. So that means, when they're pitting twice, and take 5, 10, 8 minutes to pit, we've driven by them. So, yes, biodiesel is a game changers in the off road world, for sure," said Paul Robinson, an off-road racer who is set to drive Greenspeed's truck in the Baja 1000.
Greenspeed officials say the biggest challenge in building their first biodiesel trophy truck is the price tag. If you'd like to support their efforts, check them out at greenspeedresearch.org.