Minnesota Soybean Research and Promotion Council (MSRPC) hosted the Biodiesel/Bioheat Forum recently and it was a huge success said Keith Schrader, Chairman of MSPRC. He told DomesticFuel that what promoted the Council to put the event together was having gone to New York City for the past few years to participate in the Bioheat Tour.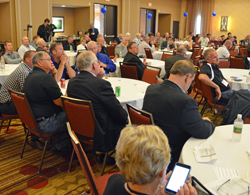 "So I went out this Winter and saw what they were doing in the heating oil market out there and the diesel market," said Schrader. "We thought we'd really like to have these guys come and spread the good news they have about their industry here in the Midwest. So we invited them to come and look around our industry and then do the Forum."
The event featured a wide, diverse group with retailers, associations, research organizations, fuel marketers and more and who really want to spread the word on how successful the Northeast has been with biodiesel (new York City uses B20 to offset the emission problems due to heating oil) and Bioheat.
The goal of the Forum, that was achieved, was bigger awareness with retailers and fuel marketers in the Midwest to understand how successful these programs are in other parts of the country. And the people who visited the Midwest enjoyed the opportunity to meet the growers who are growing and producing the biodiesel they use every day.
Learn more about the Biodiesel and Bioheat Forum by listening to Chuck Zimmerman's interview with Keith Schrader: Keith Schrader, MN Soybean Research & Promotion Council