Presidential candidate Sec. Hillary Clinton (D) made another visit to Iowa this week where she unveiled her agriculture and rural policy plan. She called for strengthening the Renewable Fuel Standard (RFS) so that it continues to drive the development of advanced cellulosic and other advanced biofuels. Clinton called for more consumer choice at the pump with better access to ethanol blends such as E15 and E85 as well as biodiesel. She also called for more renewable energy to be phased into the electricity sector.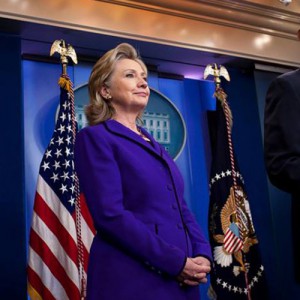 America's Renewable Future (ARF), who is meeting with candidates to discuss the benefits of biofuels, released the following statement in response to the plan.
"We thank Sec. Clinton for her commitment to Iowa's farmers, consumers, and investors with her call of a strengthened RFS. We enthusiastically echo that call, especially in light of President Obama's Environmental Protection Agency's (EPA) disastrous Renewable Volume Obligation (RVO) proposal. The EPA's proposal is another example of conceding to the oil industry's demands at the expense of clean, domestic renewable fuels and American jobs.
Billions of dollars were invested by famers and local investors to produce biofuels with the promise of a strong RFS. Reducing the RVO will strand capitol and punish the pioneers who invested in clean, homegrown renewable energy. The RFS has created 73,000 jobs here in Iowa and hundreds of thousands more around the country that cannot be outsourced, reduced our dependence on foreign oil, helped clean our air, and provided consumers savings at the pump.
Iowa's rural communities and economy depend on the RFS for stability and growth and the EPA must get it back on track and focus on protecting the jobs and economic progress it has yielded."