Researchers at Michigan State University have identified the amount of water used by some key biomass crops. This article from the school says the study, titled, "Comparative water use by maize, perennial crops, restored prairie and poplar trees in the U.S. Midwest," recently published by Great Lakes Bioenergy Research Center (GLBRC), lead authored by Michigan State University professor Steve Hamilton, provides a new perspective on how planting different biomass crop species might impact terrestrial water balances.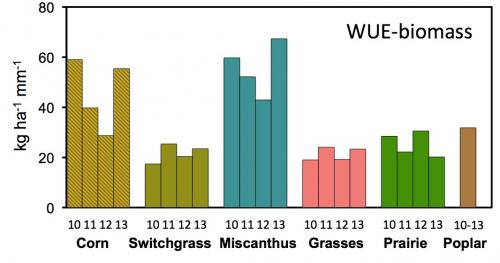 There were six biofuel species in this study including corn, switchgrass, miscanthus, a five species grass mix, an 18 species restored prairie mix and hybrid poplar. Four years of data are reported, which include a drought year (2012) and three years of near normal rainfall.
The climate and soils of rain-fed systems in the upper Midwest may limit crop productivity based on water availability. Two key questions were answered with this study:
How much water does each crop use?
Which crops are most efficient in converting water to biomass?
Water use
Average [evapotranspiration] (ET) over the four-year period showed the perennial cropping systems were not much different from the annual crop of corn. Mean growing-season ET increased in the following order: miscanthus < poplar < corn < prairie < switchgrass < native grass (Table 1), although the range of values was only about 4.5 inches. Notice that miscanthus and poplar trees had the lowest ET during the drought year of 2012. Previously, it was expected that perennial crops would require significantly more water, which could have deleterious effects at the watershed scale. This data disputes that theory and shows that planting perennial crops in the landscape with our climate and soils would not have significant adverse impacts.