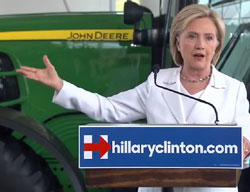 With a John Deere tractor as a backdrop, Democratic presidential candidate Hillary Clinton voiced her strong support for the Renewable Fuel Standard (RFS), solar and wind energy during a visit to Iowa this week.
"We need to capitalize on rural America's strength as a producer of clean, renewable energy," said Mrs. Clinton during a speech in Ankeny, adding that she has two main goals in that area. "Half a billion solar panels within four years and enough energy production from renewables to power every home in America within 10 years."
Noting that Iowa produces a third of its total energy from renewables, especially wind and biofuels. "If Iowa can do it…so can the rest of America," she said.
"We need to strengthen the Renewable Fuel Standard," Mrs. Clinton continued to applause. "So that it drives the development of advanced biofuels and expand the overall contribution that renewable fuels make to our overall fuel supply."
Introduced by former Iowa governor and current Secretary of Agriculture Tom Vilsack, Clinton discussed her plan to support rural America which includes investments in rural areas and rural transportation, making the production of agricultural products more profitable for farmers, and promoting the use of clean energy and renewable energy sources.
Listen to Vilsack's introduction and Clinton's speech here: Hillary Clinton on Ag in Iowa