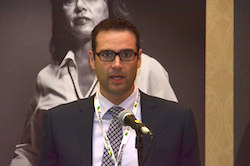 Kum & Go is well known in the Midwest, especially in states like Iowa and Nebraska where this year's #ACE annual Ethanol Conference took place (Omaha). During the event, Jim Pirolli, Vice President of Fuels for Kum & Go talked about his company's commitment to rolling out E15 stations as well as their efforts to continue to sell more E85. The retailer opened their first E15 station in Des Moines, Iowa recently with 6 more planned over the coming months.
How are they successful? Well, for starters they are price competitive at the pump. Pirolli said that Kum & Go recognizes that alternative fuels such as ethanol support local economies, better for the environment and help them deliver more to the customer than they might expect via an expanded product portfolio and also offering the economic and performance benefits. This summer they have done a very aggressive promotion campaign for E85 in Omaha and also for E15 in Des Moines. He did ask for help in helping to educate consumers about E15.
Listen to Jim Pirolli's presentation here: Jim Pirolli, Kum & Go
Also during the event, Kum & Go was awarded the Paul Dana Marketing Vision Award, to honor a retailer who is supportive of ethanol. Ron Lamberty with ACE noted that the retailer has been an ongoing leader in ethanol selling E10 back in 1979, today as 170 E85 stations in 11 states. He praised them for stepping up for ethanol and for marketing the fuel aggressively and for being a leader in offering E15 to consumers.
Listen to Ron Lamberty's remarks about Kum and Go here: Kum & Go Honored with Paul Dana Marketing Vision Award